Ok, so last night at church, Mark Newman was there. "Who is Mark Newman?" you might ask. Well, Mark was a friend of Baron's a LOOOONG time ago when they were in high school/early college years. The most important part of Baron & Mark's relationship was the singing group they were in. To be exact, it was a rap group. A Christian rap group comprised of 4 white guys. Yes, that's right - I am speaking of the ever-famous group, C.I.A. If you have never had the pleasure of hearing the life-changing songs of C.I.A., then you are definitely missing out. Anyway, so Mark was at
Vaughn Park
last night. Well, of course Baron & I were two of the last 4 people to leave the church building, as usual. So Mark &
Ross Mitchell
got to talking, and then they, along with Baron, began reminiscing about "the old days". Of course Ross broke out into a rousing rendition of
Discipleship
, one of C.I.A.'s songs written by our very own
Eric Gwin
. So this got me thinking. (Uh-oh...not again...) What if C.I.A. had a reunion concert? I mean, how cool would that be?? And THEN...I thought how incredible it would be if C.I.A. performed at my 30th birthday party?! I mean, really - it would be the party of the century! So if any of you former C.I.A. guys are reading this, or if you are reading this & you have any contact with them, PLEASE consider this request! All I'm asking for my 30th birthday is a smashing reunion concert. And you have 4 years to get ready for it. Do it just for me. Thanks.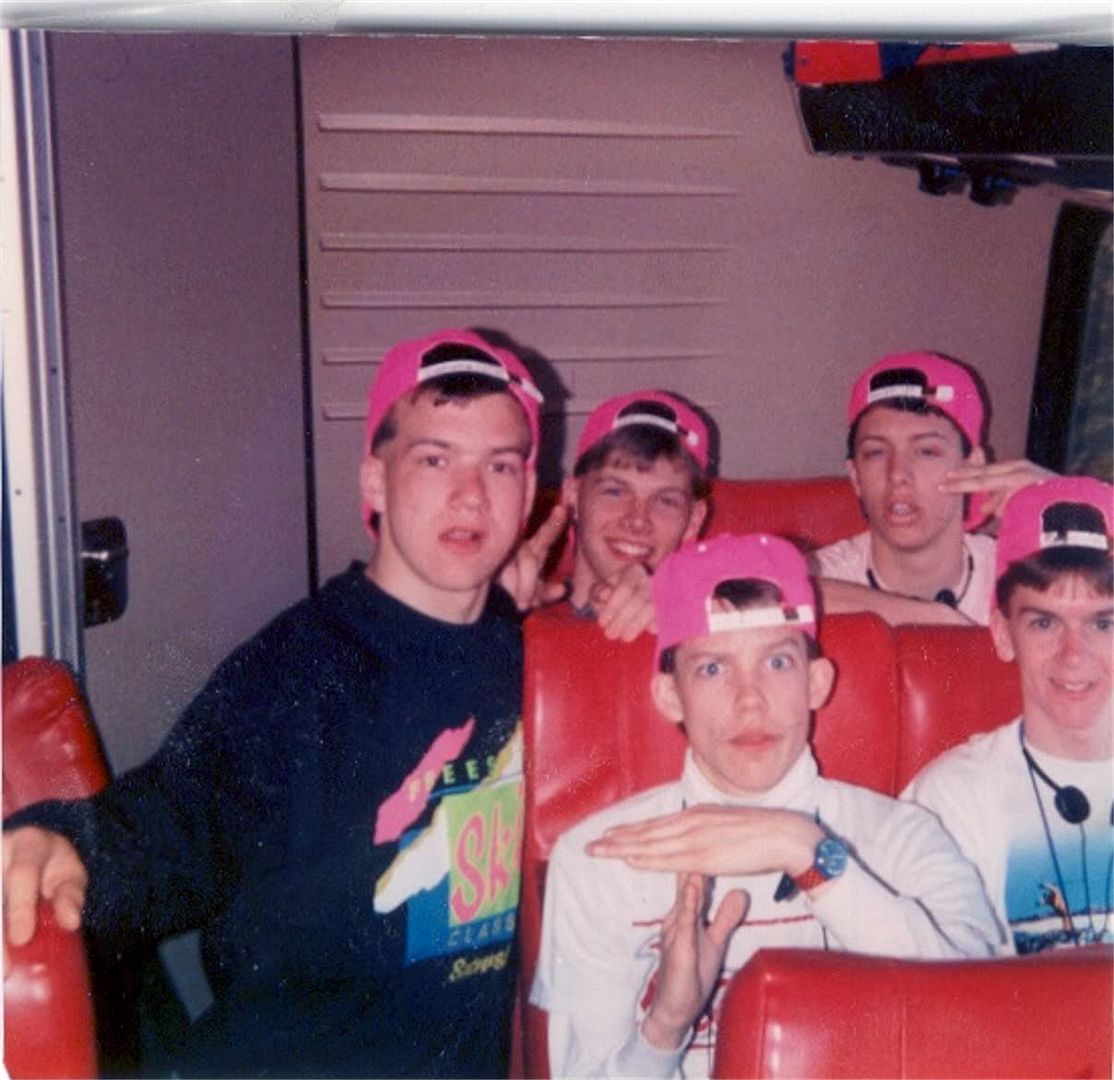 (Some of the members of C.I.A....notice Baron in the back!)
So in the conversation that evolved into a trip down memory lane, the topic of a certain coffee table arose. See, when Baron was high school-ish age, his mom's house was like the hub of the youth group get-togethers. It was the place to be, no doubt. That was where every one went to hang out. So one night (Baron, correct me if I am telling the story wrong), Mark Thompson was lying on the floor watching TV or whatever, and he looked up & saw the underside of Jane's coffee table. Mark, as usual, was probably feeling a bit A.D.D. at the time, so he decided to sign the bottom of the table. Thus beginning the trend of signing the underside of Jane's coffee table. If you could see the table now, you would see like a bazillion signatures on it. It's pretty cool. If you're reading this blog & you've signed the table, give a little shout out. Anyway...back to the story. So last night we were reminiscing about the coffee table (ok really, Ross, Mark, & Baron were reminiscing, & I was just standing there because I was like 10 when all of this happened) when Baron told me some upsetting news. Apparently, Jane has offered the coffee table to Kristin & Tim (Baron's sister & bro-in-law). WHAT?! Why weren't we consulted on this decision? Shouldn't we like draw from a hat or something? I mean, we don't even have a coffee table. Granted, this table isn't exactly one you would find in
HOME magazine
or anything, but it's a table. And it has history. It's like a museum piece. So apparently everything Baron has ever told me about Kristin being the favorite child is true. I am now experiencing the consequences of the Goins favoritism. [sigh] Good-bye, sentimental coffee table. Sorry we never even had a chance at having you in our home.